JJNUSA Genuine leather Vintage Wallet for ipad air 4 / 5 Cover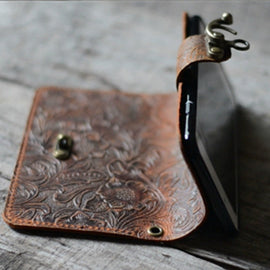 color: Brown✔ 
①MODEL:  ipad air 4 / 5 Cover
②wristlet: with wristlet   ✔
③have with stand    ✔
 color: Brown✔ 
①MODEL:  ipad air 4 / 5 Cover
②wristlet: with wristlet   ✔
③have with stand    ✔
How do I contact you?
We'd be happy to hear from you! You can contact us at: yinrenqun@jjnusa.com at any time. Feel free to drop us a line via phone (1-844-665-2142) or live chat M-F 9am-5pm CST. Please note: war drums, smoke signals, or carrier pigeons will have a delayed response time of 6-8 years.
If you have an immediate concern that needs to be addressed ASAP, please give us a call or a chat. We respond to emails in the chronological order that they were received, writing in via email multiple times won't move you up in line. Calling/chatting in is the fastest way to get your issue resolved, and our CS gurus are delighted to hear from you. Curious to meet the team and see what we're all about? 
RETURNS & REPLACEMENTS
All refunds of the item sale price will be credited to the same credit
card or paypal account used for the original purchase.
You can return the item within 14 days of receipt.
The refund will be issued as soon as we receive your return and decide that it is in PERFECT & not used condition.
We do not issue refunds before we receive the item back to our address.
Please allow 1-2 weeks from the date we receive your return for your account to be credited. It could take 1-2 billing cycles for the creditto appear on your credit card statement.
Personalised Items Returns: If an item has been engraved or personalised according to customer's specifications, this item CAN NOT be returned for exchange or for refund. Such items will be sent back to the customer"s address and will NOT be refunded.
All returned items must be stated as return products, as otherwise may customs taxes be applied if from outside EU zone. We will not be responsible for customs clearance of these items and therefore these items would not be collected from customs.
How do I get my product repaired?
We'd love to get your item in for a little TLC. Please Come and meet the team! to get an approval and repair form. This will ensure your product gets the care it needs and can find its way home to you. All repairs must be sent in and approved by our repair team. We aren't able to cover shipping into us, but we will fix up your item and ship it back to you for free!
Most repairs take 1-2 weeks. Due to their intricacy and depending on the in-depth nature of the repair, a bag repair takes approximately 4-6 weeks. We know it's hard to part from your beloved PQ item, but we will do our very best to get your item shipshape in a timely manner. 
Do you offer exchanges?
We aren't able to process exchanges. We would be happy to get your like-new item back in for store credit, as long as it's within the 30-day window. In this case, we suggest opting for store credit, it's days faster than a refund. Simply contact one of our PQ Guru's and we will take care of you. Let them know by emailing yinrenqun@jjnusa.com or calling at 1-33-9266-6711, or even via live chat (M-F 9am-5pm CST)!
Can I edit my order?
After the order has been placed, we aren't able to edit your order. Customer service would be happy to help process a cancellation and place your new order. However, we offer free First Class shipping on our domestic orders, so feel free to swing by and pick up any accessories you may have your eye on!
How do I cancel my order?
Please let us know as soon as you've arrived at your decision. Contacting us by phone or live chat during business hours is the fastest way to get your order canceled. Typically, orders can be canceled within the first 24 hours. If you're reaching out via email, please include "Cancel Order". Our gurus will be able to spot the cancelation and can arrange it as soon as possible. For even faster service, include your order number in the subject line as well! It's a big help to the team and gets your cancellation in process. Once the carrier has picked an order up for shipment, orders can no longer be canceled.